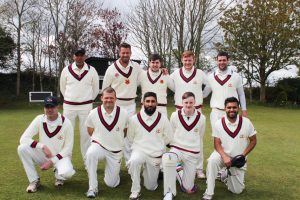 Dull!
Saturday was a dull day, the sun threatened to shine earlier in the day but it flattered to deceive.  The lack of sunshine was exacerbated by a thin, lazy breeze, happy to go through a fella rather than go round him.
To add to this discomfort, there was precious little in the cricket to warm the cockles of the congregation at The Vineyard. The faithful had assembled to see their side engage Merrion in the knowledge that a win would see The Hills climb to a safe level in the league and let rivals know that they were not an outfit to be lightly dismissed.
It started with promise, Albert Van der Merwe effecting a superb run-out to remove Lewis (4) off the eighth ball of the match. Things went awry at that point, Dom Joyce was joined by Lockhart-Krause and, simultaneously, The Hills opening bowlers lost their length. Dominic revelled in the short pitched deliveries, striking 6 fours and a maximum in his 48 ball 39. With Lockhart-Krause he built a partnership of 60 before being trapped LBW by Tomás Rooney Murphy in the fourteenth over with the score at 73. This state of affairs was considerably better than had existed at the end of the sixth over when the visitors had amassed 59 runs, a frightening run rate which had, mercifully, been spiked by Albie's  mystery spin.
The sun still refused to put his hat on and spirits were not lifted by the appearance at the crease of John Anderson, a cricketer of deserved reputation. The Lightning captain contributed just 6 runs to a partnership of 23 with Lockhart-Krause (66) before Luke Clinton enticed him to chase one outside off, he found a thin edge and Mark Donegan held the catch. 96 for 3 in the 22nd over.
The sigh of relief should not have been breathed so readily. The pro was joined by one Tyrone Kane who approached his task like a man on a mission, his 87 ball 102 included 11 fours and 4 sixes. With Lockhart-Krause, who fell in the 36th over, caught by The Hills skipper off the bowling of Nazeer Shoukat, Kane built a partnership of 70.
166 for 4 in the 36th over.  Next for shaving was Blakeney (6), he stayed with Kane for 7.3 overs while the score increased by 40. Albie disposed of Blakeney LBW.
Tyrone was eventually caught by Van der Merwe in the 48th over off Max Sorensen. Max proceeded to clean up the tail-enders, bowling 2 more and running out the other two.  After 49.2 overs Merrion were all out for 257, only three of their batsman having reached double figures.
Cormac McLoughlin-Gavin (30) and Manu Kumar (29) opened for the home side and, while it's a little harsh to criticise caution, hindsight is always faultless. The openers' partnership of 70 was formed over 17 overs, which compared with the visitors 59 off six overs, looks slow but, as I say, hindsight is 20/20.
Manu fell first, LBW to Dave Langford-Smith and Cormo was joined by Mido Shah (61). This pair added 16 before Cormac received the same fate as his opening partner, LBW to Langford-Smith. 86 for 2 in the 21st over
Hamid and Albert Van der Merwe (28) then added 70 of the next 96 balls before Tyrone Kane had Albie caught by Anderson. 156 for 3 after 37 overs.
So things had sharpened up a little, still 101 runs needed off 84 balls but not unachievable. Max teamed up with Mido and the required rate started to fall until Mido skied one off Stanton and Kennedy was on hand to hold the catch.
Mikw Baumgart (1) arrived in an unaccustomed spot in the order and didn't stay long, caught Lockhart-Krause, bowled Dom Joyce. 199 for 5 in the 43rd.
Dylan Edwards (8) a new face who has been making runs for fun in the 2nd XI, arrived and with Max striking the ball powerfully 22 runs were added. However the pressure now fell squarely on the adequate shoulders of Mr Sorensen and he fought mightily scoring 7 fours and a six in his 28 ball 48. Max fell in the 46th over, bowled Kane, caught Anderson on the pavilion end boundary as he assayed another maximum but he failed to get the required height to clear the fielder.
The cheers of the Merrion players told the story, The Hills 221 for 6 with just 24 balls remaining. 37 needed to win off 24 balls.
Dylan was run out for 8, Tomás, stumped for 6 and Mark Donegan bowled for 1 by Kane. Nazeer (6*) and Luke (7*) fought on valiantly but in vain. The Hills 247 for 9.
The peculiar upside of this not fantastic day is that with Phoenix being soundly trounced by Pembroke, The Hills, through their 5 bonus points, find themselves moving up a place on the log to third, 5 points ahead of Phoenix and 18 ahead of fifth placed Merrion.
There's a long way to go and lots of cricket to be played before the XXL lady reaches high C, so let's not be downhearted.
Your strong arms and stronger wills are needed next Friday and Saturday.
 The Skerries 100 motorcycle races present us with one of our biggest fundraisers of the year but it's not easy. There will be the usual hard-working volunteers (none of them getting any younger) putting their shoulders to the wheel and they would appreciate whatever help you can offer, be it a full day shift or just a couple of hours.
Contact young Willie Dwyer for your orders
Now is the hour for all good women and men to come to the aid of the party!
NA CNOIC ABU
C'MON THE HILLS
KOMAAN DIE KOPPIES