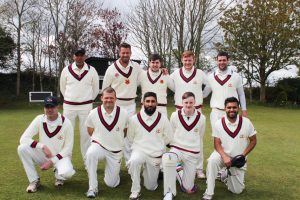 This could prove to be a testing term for Railway Union Cricket Club for, on Saturday's showing, they will be depending on their own version of Captain Fantastic to ensure their survival in Division 1. That the fourth highest score on the home side's card was the twelve wides contributed by The Hills and the sixth highest the five leg byes tells its own story.
The Hills arrived at Park Avenue shorn of the services of Max Sorensen. Struck down by the dreaded lurgy, the big man was to be found languishing in the lea of the hedge on the win'ard side of the ground. Tomas Murphy would bat but couldn't bowl, being handicapped by a strain in his side so Osama Khan was drafted in to augment the seam attack.
The wicket was in much better condition than had been reported but on winning the toss Tomas opted to bowl. Kenny Carroll (83) opened the batting for Railway and lost his first two colleagues in the fourth over to Nazeer Shoukat, neither Russell nor ulHaq bothering the bookkeepers. Kenny was joined by a promising fifteen year-old, Barron (8), who held his end, keeping his skipper on strike until the eighteenth over when he became Osama's first victim of 2016.
Carroll was given a reprieve on 31 when what appeared to be regulation catch was put down. In the twentieth Osama struck again sending the veteran West Indian, Adrian Murphy (1) back to the pavilion, caught by Mark Dwyer. Murphy is a dangerous cricketer when he gets in so it was a great relief for the travelling support to see him depart.
Kenny was joined by D. Singh (21) and a partnership of 42 was forged bringing the Railway total to 101 for 5 when Luke Clinton saw Singh off with a snappy caught and bowled. Enter the other great Railway Union stalwart, Mo Tariq (29) who, with Carroll playing a supporting role, looked to be quite comfortable until, with the score on 138, the Railway skipper skied one off Osama for his opposite number to gleefully gobble it up.
138 for 6. Fernando, run out by Mike Baumgart, Ullah, bowled Osama and caught Hamid and Divney, bowled Albert van der Merwe, came and went for a grand total of 2. Tariq held on until the 48th over when he edged Naz to Mark Donegan.
Railway Union all out for 163.
It wasn't a huge score but, as the fella said, it had to be got. Mike Baumgart (7) opened with Manu Kumar (38) and all was going smoothly until Fernando, the home side's new Sri Lankan professional, removed a section of Baumy's woodwork. Cormac McLoughlin-Gavin (15) was just beginning to look settled when he was bowled by Saad Ullah. 49 for 2.
Manu was joined by Hamid Shah (44) and this pairing put on 61 runs before Manu was caught and bowled by Barron in the 30th over. Albie (26) teamed up with Hamid for six overs until the Dane was dismissed, caught Carroll off the bowling of Barron.
Mark Dwyer (8) came and went bowled by the chief engineer to be replaced by Mossy (3*) then Albie was caught by Adrian Murphy off the same train driver. Nazeer (2*) and his skipper saw The Hills home in the 46th over.
The Hills 164 for 6. A fairly routine win which could have been achieved earlier had a couple of regulation catches not gone to ground. However, a second league win added to last week's Irish Cup victory should put The Hills in good heart for next Saturday's 60 over encounter with Leinster CC.
Don't forget, it'll be an 11.30 start, so get to The Vineyard in time to secure a good viewing place.
NA CNOIC ABU
C'MON THE HILLS
KOMAAN DIE KOPPIES
KOM ON DET BAKKEN