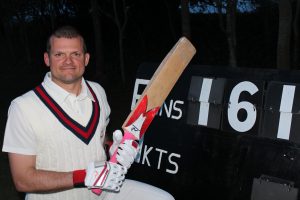 It's tempting to slather on a coating of "Great Danes" and "Viking invasions" but I'll resist the urge. We'll come to that later.
The visitors lost the toss and were put in to bat on a batsman's dream of a wicket, a wicket which had yielded 600 runs on the previous Sunday when Lightning took on Denmark.
 It all started quietly, Theo Lawson (9) opened for Pembroke and looked quite comfortable as, in tandem with Dan Solway, he brought the score to 22 before Max Sorensen coaxed him to edge one to Mark Donegan who gobbled it up to register his first Division dismissal.
This, it turned out, was a false dawn as Solway 91) was joined by a second Daniel, he of the clan Hogan (79) and The Hills bowlers had to labour long and hard for almost thirty overs before Manu Kumar trapped Danny Hogan LBW. In his next over, Manu struck again, this time smashing the citadel of R Kelly, who was left singing the blues.
At this stage Pembroke had amassed 201 runs and, with fifteen overs to go, the harbingers of doom were clearing their pipes in preparation for the funeral march. The new Pembroke professional, Solway was still in office and looking as menacing as ever, he was joined by Hopkins (13).  218 for four and still twelve overs to go.
At last Max delivered a Yorker to beat Solway and the faithful breathed a sigh of relief. Hopkins left soon afterwards, caught by Albert van der Merwe off Max and the home crowd believed that a disaster had been averted. Ah but how often we are deceived by appearances, dear friends; a partnership of 73 was to follow, Fiachra Tucker (33) and Jack Balbirnie (30*) doing some serious damage to the home side's hopes. Mark Donegan claimed his second victim, stumping Tucker off Albie's Mystical spin on the penultimate ball of the innings.
A painfully generous 39 extras brought Pembroke's total to 299 for six.So there was work to be done to retrieve something, anything, from what appeared to be the wreckage.
The Hills opened with the new boy, Freddie Klokker and the stalwart Mike Baumgart. A goodly proportion of the home support were, if not totally confident, hopeful that three hundred was not beyond the abilities of a strong batting line up. Their hopes took a battering in the fifth when Baumy (2) edged the pacey Murphy to slip where Fiachra Tucker joyfully snaffled it. Cormac McLoughlin Gavin came and joined Freddie but fared little better than the man he replaced, falling for 3 off the bowling of the same bowler.
A semblance of order was restored when Hamid Shah (23) joined the fray and all was going well until Mido thought he saw another six (he had already hit two) over Jack Balbirnie's head only for Fiachra Tucker to take a fine running catch in front the sight screen at the pavilion end.
Twenty three overs gone, 108 for 3, it was a long way to 300, spirits were starting to sink…they sank a bit deeper when Albie came and went for 9 in the twenty sixth. 122 for 4.
Fear not, dear readers, the Great Dane (I told you we'd get back to him) was still in situ and doing some serious batting. Max Sorensen, he of the Danish name, came to the middle and played himself in, getting settled and secure, before contributing a quick-fire fifty one runs, including 4 fours and 2 sixes, in a partnership of 103 with Klokker.
The body language of the fielders was changing, heads and shoulders were beginning to droop.  225 for 5, ten overs remaining, at a run rate of 7.5 per over…it's a thousand to one shot but…
Mark Dwyer was next up and he followed the vein of form he found against Denmark the previous week (he must be finding married life agreeable). Three tree shaking sixes and a couple of fours as well as the second last single in his unbeaten 35 brought The Hills to a tied match with seven balls remaining.
Needless to report, the Viking invader (I warned you) did what was required and The Hills had snatched a victory from one of the fancied sides in Division One.
Freddie Klokker's 161 not out is a record in senior cricket for The Hills, outstripping Jeremy Bray's 142. Obviously Brayser's coaching is paying dividends.
Those of us lucky enough to be there witnessed a display of disciplined stroke play that should stand as an example to all concerned. Klokker's concentration and determination never wavered and if someone bought him a beer (or six) after the match it was richly deserved. Maxie's 51 and Mark's 35* are worthy of honourable mention for without these contributions all of the opener's efforts would have come to nought.
Much work and some heart-searching to be done before the visit of Civil Service Northern Ireland next Saturday for round one of the Irish Senior Cup.
NA CNOICH ABÚ
KOMAAN DIE KOPPIES
KOM ON DET BAKKEN
C'MON THE HILLS.