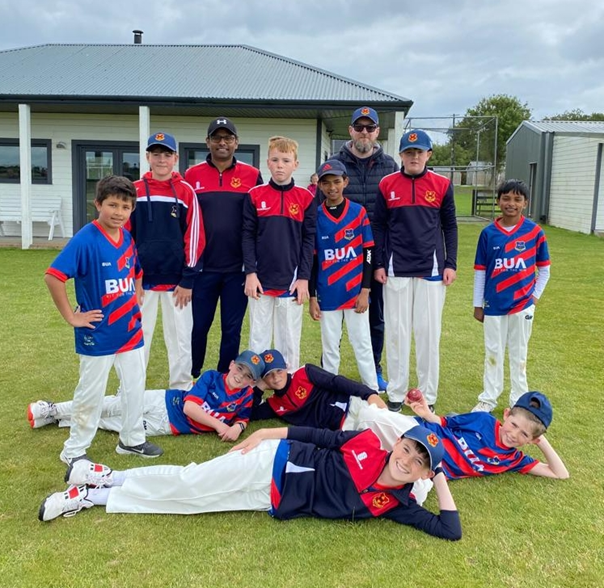 Sunday 22th June
Andrew Russell
MCG
The Hills Minor B 140-3 (Nett 125) beat Pembroke 63-14 (Nett -7). For the first time this season the sun graced the Hills Minor B's with its welcome presence. Morgan Leonard, The Hills Captain, elected to bat first having won the toss. The initial outlook had changed by the end of the very first over, clouds rolled in over the MCG and The Hills were 3-2 when their opening pair had chipped consecutive balls into grateful hands at mid-wicket. Thankfully at Minor B level (batting in pairs) the chance of redemption is always available and Morgan (23) and James Davis (11) took their opportunity adding 33 without further loss to finish on 36-2 after 4 overs. Daniel Adderley (16) and Chandrahas Chellagurki (11) added 30-0 to the total thanks to some great running between the wickets, including two 3s a rarity at Minor B level. Leo Russell (
and Cillian Fogarty (16) added 28-1, including two superbly struck boundaries from Cillian. As the visitor's less experienced bowlers came on the extras began to mount up and Sean McFadden (5) & Cillian McKenna (3) added 26-0 with Shreyas Chellagurki (7) & Aram Akbar (6) adding 20-0 bringing the Hills' total to 140 for 3 wickets (Nett 125 runs), a challenging target for the visitors to chase.
The Hills put in an energetic team performance in the field. Everyone bowled 2 overs with 8 of them taking wickets alongside 2 run outs. Morgan (1-3), Daniel (1-3), Chandrahas (1-3), James (4-0), Aram (1-6), Cillian (1-3), Sean (1-8) & Leo R (2-15). Special mention to James who had a superb spell with two double wicket maidens in addition to a run out in the middle of the innings. Shout out to Cillian McKenna taking a difficult catch in the deep towards the end of the match.Despite the visitors fielding several players playing their very first 'hard ball' match, they battled hard until the end and they can be very proud of their future stars.
Once again, the game was played in great spirts by both teams. Thanks to Dave Fogarty for doing the book, Mary Clinton for baking some lovely treats for the players and Mick L for providing refreshments for the thirsty teams.
Cheers, Mark, Simon, Stephen and Ravi